High Angle Inspection and Repairs Extend Equipment Life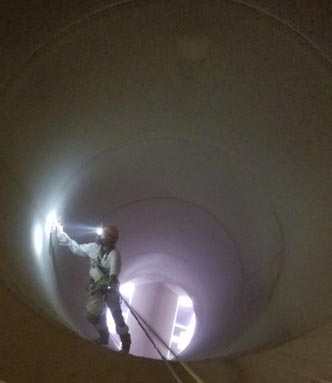 CMS was recently contracted to provide rope access inspection services to assess the condition of the conditioning tower transition duct in a cement plant. The project was staffed using qualified MSHA Part 46 and confined space high angle trained employees.
"Our process requires a lot of energy to transport and heat the air in our process flow," according to Brenna Ferko, Process Engineer at Ash Grove Cement Company. "We had false air coming into our system as ambient air from holes in our ductwork, and it caused us to use more energy for fan power." As a result, equipment performance suffered and potential problems carried over into other parts of the plant.
"We brought CMS in to do inspections inside the ducts to try and identify where the false air was coming from," she says. "There are also a lot of areas where dust fugitive control is important. So, if we do have dust escaping anywhere, these repairs help. Our plant is getting older, and we are finding that our ducts are starting to reach the end of their life in some places."
During the 2019 inspection, CMS used visual and non-destructive methods to identify areas of potential concern. The visual inspection focused on identifying anomalies consistent with equipment degradation, such as corrosion, erosion or general damage.
The inspection process included using a hand-held device for ultrasonic thickness (UT) measurements. The CMS inspector, a qualified and highly experienced welder, also performed immediate repairs to damaged equipment identified during the inspection. In addition, CMS supplied all tooling and associated personnel to safely perform the job as part of the work scope.
Project Set-Up and Inspection Procedures
Prior to the project, a work safety plan was developed for each item of inspection included in the work scope. All CMS safety plans are developed in accordance with NFPA guidelines and MSHA regulations.
The 2019 inspection required extensive rigging to be installed to facilitate a safe work environment for the inspectors and a rescue team. "The rescue team they bring onsite consists of active fire fighters," adds Ferko. "That's a big thing because if something were to happen, these are the people who can safely remove someone from a confined space. We feel a lot more at ease knowing that we have them here and to see how well the entire team is trained." All rigging anchors and apparatuses were safely removed from the space after each inspection was approved complete by the plant.
Inspection and Repair Results
CMS's inspector identified corrosion below access doors, on connection flanges and expansion joints. The repairs stopped false air from entering the duct system. "The expertise that CMS brings in regard to inspections, repairs and safety is something that we at the plant would not be able to match without extensive training," points out Ferko. "There is a massive cost avoidance in bringing CMS to the plant during our outage versus maintaining training with our employees."
There is also the dependability factor: "The repairs that CMS has made have always lasted until we have the opportunity to make a permanent replacement to the damaged area," notes Ferko. That shines light on the need for regular inspection and application of repair materials, a strategy that will continue to be instrumental in controlling corrosion damage in these areas. "The disadvantages of stretching out these inspections is that you do not know the internal condition of your duct work and are chancing a massive failure that can cause unplanned downtime and force a plant to execute unplanned work, which is inherently less safe and more costly," she says.
Where the Value Really Comes In
Companies rely on CMS to handle challenging projects on tight deadlines in tight quarters. All CMS inspectors are trained in high angle inspection and can often reach places even a drone can't access. "The value comes because they're getting into areas that are not easily accessible. In order for someone to access these areas, extensive scaffolding would need to be erected, which consumes valuable time and materials." explains Ferko. "Not only that, but once they get into these positions, CMS can make repairs. That's where the value really comes in!"
Ash Grove's turnarounds are typically just two to three weeks long, which means there is a lot to accomplish in a limited maintenance window. But meeting or exceeding expectations, time after time, has built trust in CMS. "They have always been able to finish their scope of work during the timeline we have available," reports Ferko.
"They are very reliable and self-sufficient. I know that if I'm managing other projects, I don't need to worry about them. They know how to do their jobs very well, and they know when to call and when to take care of a problem on their own. That is crucial for us, especially during the winter turnaround. We usually have many projects underway and time is very valuable."
Long-Term Planning and Prevention
Having serviced Ash Grove Cement for many years, CMS has provided its customer with an ongoing series of final inspection reports that enable engineers like Ferko to more accurately plan for the future. "Not only are we looking for problems, but we are trying to build a history," she shares. "CMS inspectors are taking UT thickness measurements of the duct that they are inspecting, and if we have what the measurement was five years ago and what it is today, it helps build a better idea of when that duct needs to be replaced. They help us build a long-term picture and a better maintenance budget."
Customer-First Attitude
Shutdowns can be stressful periods for plant engineering, maintenance teams and management, and CMS personnel are there to help alleviate problems not create them. "The biggest thing that we like about them is that they are easy to work with and enjoyable to be around," concludes Ferko. "Sometimes you get contractors who are overworked or gruff, but everyone with CMS are A+ people with great attitudes! I have never had a problem with CMS being late on the arrival or completion."