Mechanical Dust Collector Maintenance Helps Extend Asset Life Cycle while Improving Overall Plant Efficiency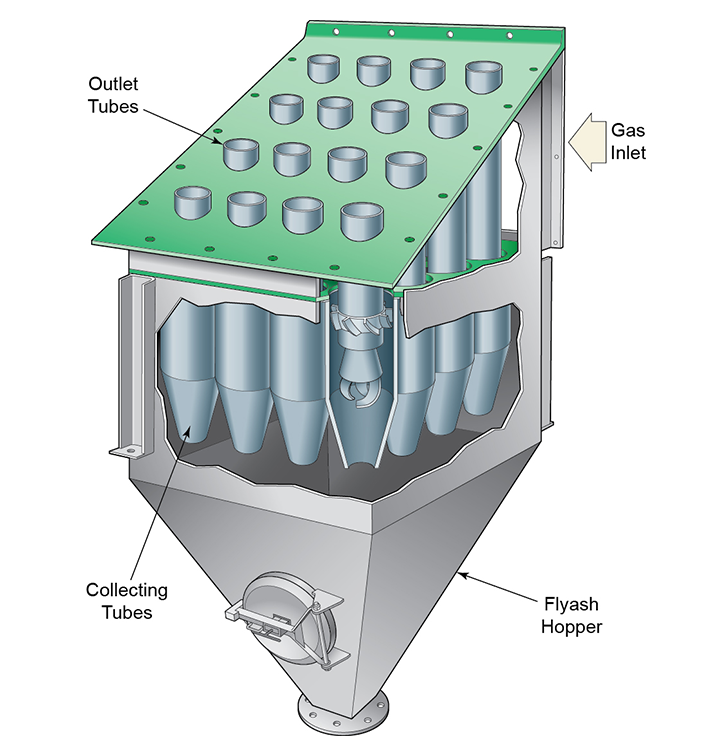 When looking for a contractor who services mechanical dust collectors, make sure your resource is capable of pinpointing and addressing the causes of operational issues. Corrosion Monitoring Services can be that resource, supplying mechanical dust collector maintenance parts and services while meeting industry standards. CMS offers scheduled and emergency repair services for dust collectors and other industrial equipment in power plants, pulp and paper operations, cement plants, refuse processing, and biomass facilities.
Common problems with mechanical dust collectors can have a significant impact on overall plant performance, emissions, maintenance of gas-path equipment, and increase station power consumption. Mechanical dust collector clogging leads to fan limitations and often results in significant problems downstream of a boiler, such as increasing the loads on precipitators and bag houses. When fly ash and other particulate accumulates undetected, it can result in forced outages or deratings due to the damage it causes to other equipment. Neglecting mechanical dust collector repairs could lead to air preheater erosion and plugging, ID and booster fan repairs, increased bag house maintenance, and gas system turning vane erosion, among other problems. Additionally, fugitive particulate emissions caused by a leaking dust collector (particulate bypass) can lead to environmental compliance issues.
CMS can guide you to improving your gas-path equipment operating efficiency with an analysis of the condition and performance of your equipment. We show you how mechanical dust collectors help preserve equipment when they are maintained by a knowledgeable parts and service provider. Our approach focuses on your system's overall configuration and performance based on the fuel burned and gas flow requirements. Additionally, CMS can evaluate external parameters such as boiler-performance may have impacts on mechanical dust collector performance. An overall plant approach helps ensure that your dust collector is configured for optimal efficiency based on fuel selection and burn rate.
Once CMS has gathered and analyzed specific information, we can put together a plan for your review and approval that helps maximize industrial dust control and minimizes downstream fouling and wear of other critical equipment. These detailed assessments focus on providing data that will allow planning for proactively managing repair costs, including a dust collector maintenance checklist tailored to meet your unique needs. With this valuable information in hand, our maintenance teams can provide you with immediate help in troubleshooting leaking dust collectors as well as solving associated problems with air heaters, fans, and other equipment that often impact the dust collector efficiency. Our goal is always to evaluate the right balance between operating profile and design velocity of the dust collector cones, while providing you with seamless project execution.
CMS is a one-stop-shop that can identify areas you need to improve to meet current dust collector maintenance standards as well as providing mechanical dust collector repair and service to other critical equipment in the gas-path. Contact us today at for emergency service or to schedule an analysis and take advantage of our Rapid Repair Solutions.